Crew members
The Kick-In is not possible without the help of crew members. Do you want to experience the Kick-In like never before and show effort for the new students in Enschede? Are you interested in helping as a crew member during the biggest event in Enschede?
There are many different crew groups during the Kick-In and who knows them better then the crew groups themselves...! Below you find a description of what the different crew groups do during the Kick-In, written by themselves:
Kick-In Media is a group of photo, video, social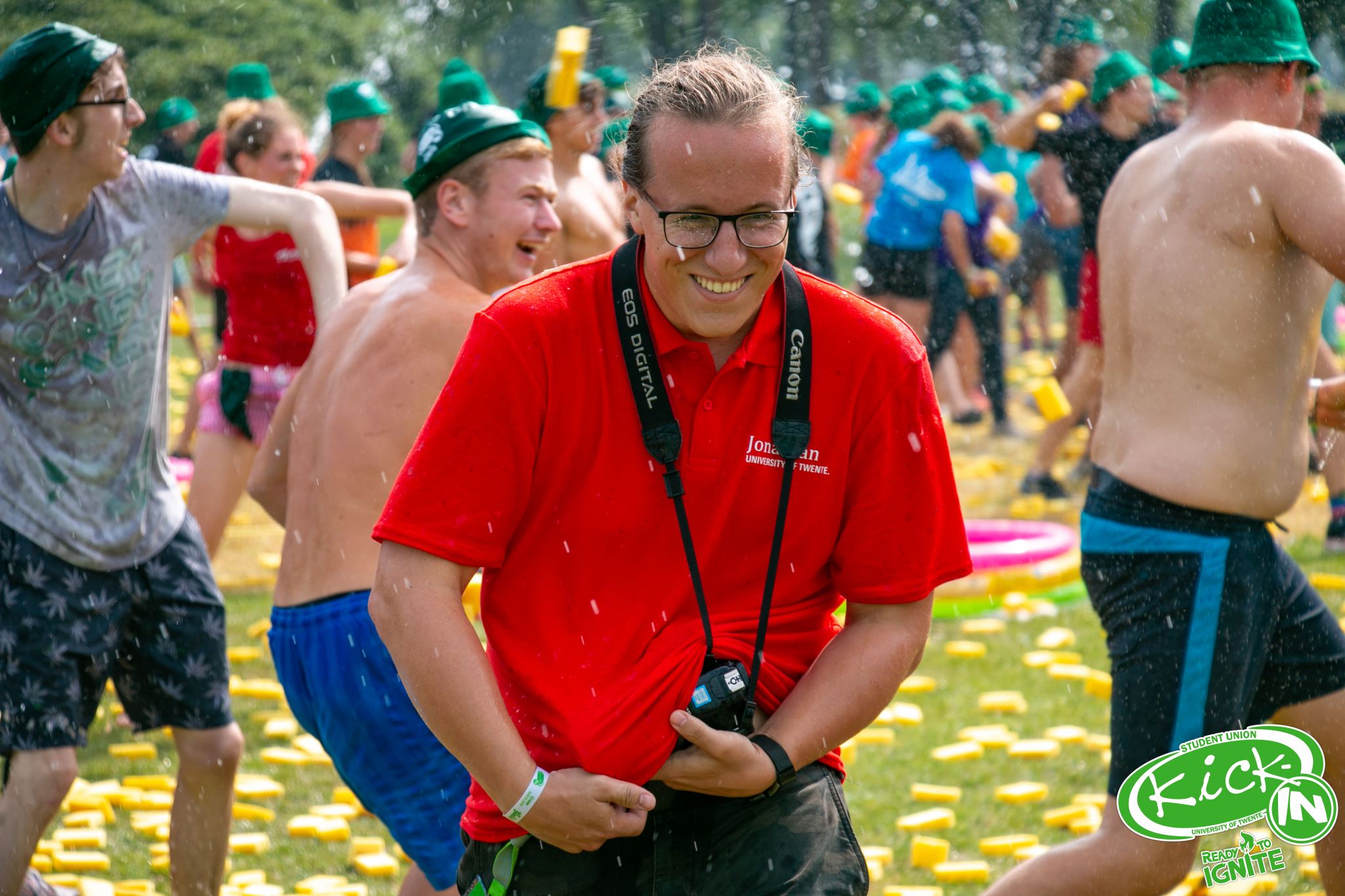 media and magazine enthusiasts all working together to capture the Kick-In in the best possible way. During the Kick-In we can be found at almost every activity, from pool party to cultural activities and from cantus to city tour. Even if you are not present at one of these activities, you can still follow us via Instagram, Facebook and Flickr or read upon what you missed the following day in the Kick-In magazine, the Break-In. Our goal, next to making photos, videos, social media and magazine as good as can be, is mostly to have fun and learn from each other during these 9 days. Do you have a camera and want to become a better photographer or videographer or are you good with journalism and want to help with social media or the magazine? Join media and help us out!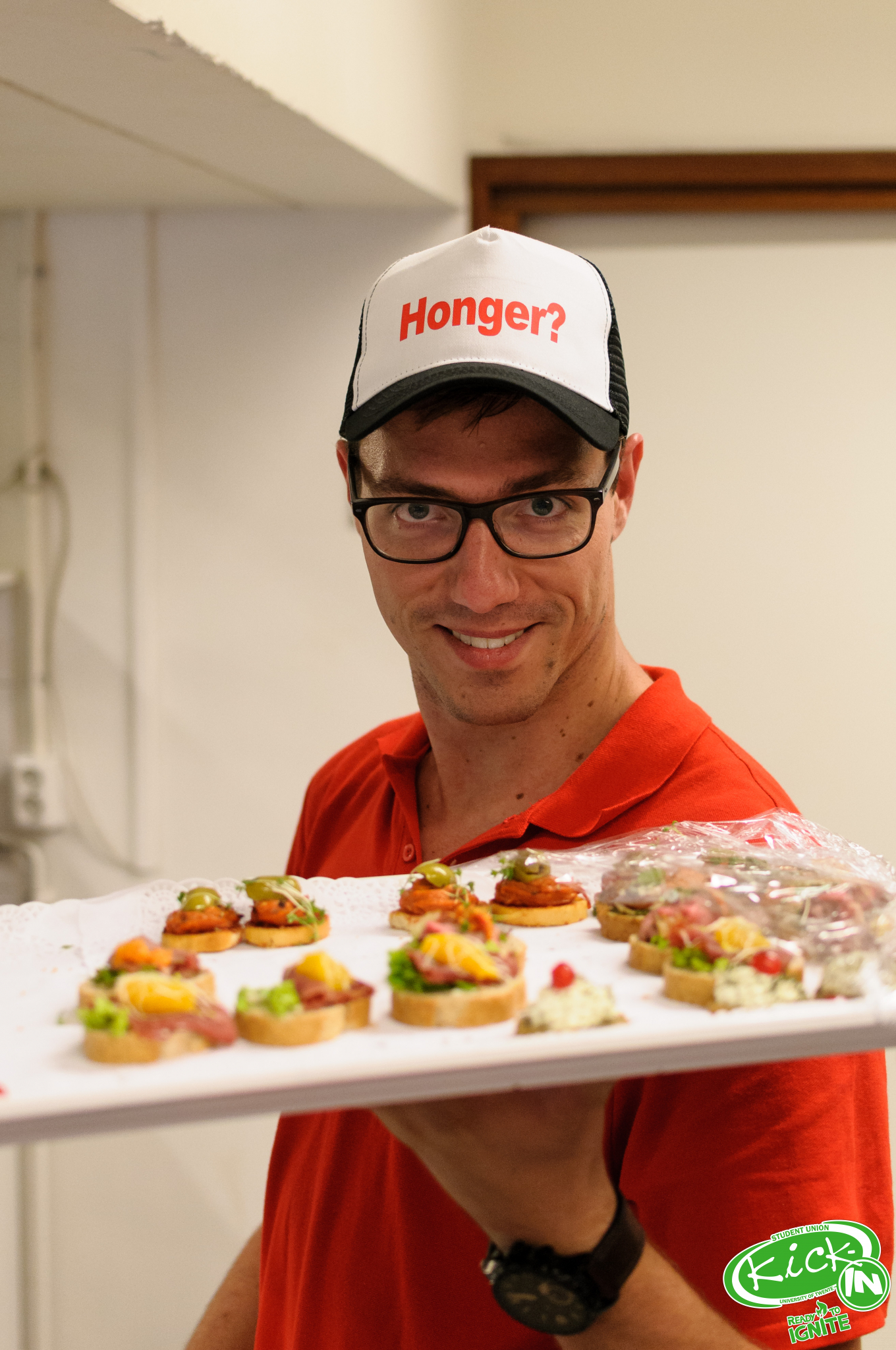 How do you ensure that 150 crew members stay motivated during the whole kick-in? With a lot of coffee, tea and cookies of course. The care crew drives around during the entire kick-in to provide all the hard-working crew members with food and drinks. We drive across the campus with a golf cart full of deliciousness in search of hungry and thirsty crew members.
The care crew is also busy taking care of crew members who work a little less hard. Crew members can chill outside of their shifts in the crew room in the Bastille. The care crew ensures that the refrigerators stay well stocked here and that any requests from the crew end up on the shopping list.
As care crew you naturally do not want to run the risk of people eating too little, so you also help distribute dinner.
From the Transport song 2018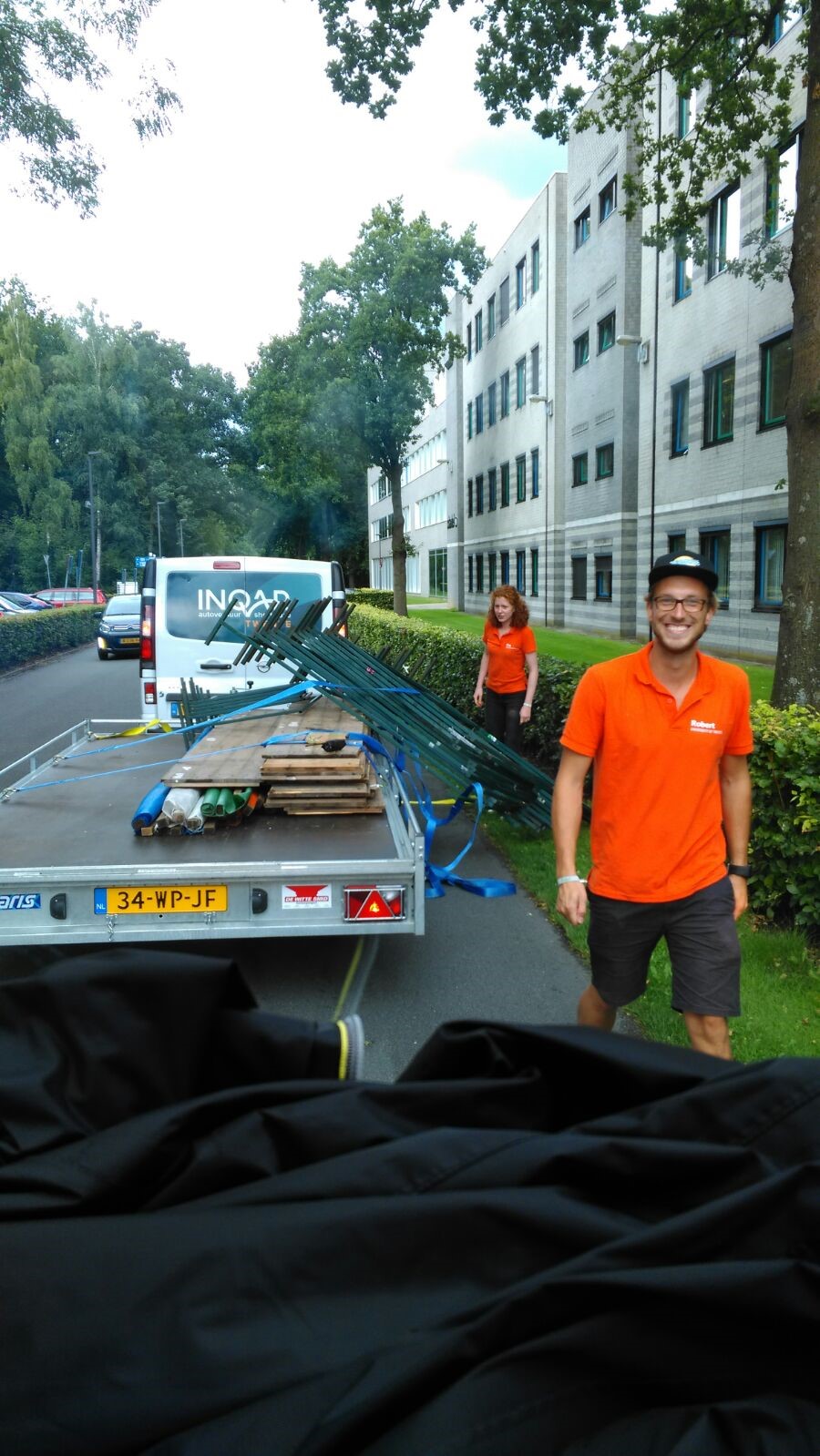 To the melody of the Audentis song 2018
Ik ben vervoer, mijn rit gaat komen
Dit is mijn moment
Geen twijfels meer, ik weet waar ik nu heen ga
Nu rijd ik hier, ben trots op Ro-buhhhhrt

Het is een ritje op de Maaaaaaa-ni-tou
Lees de lijst, neem het mee, laad het uit, minions
Het is een ritje op de Maaaaaaa-ni-tou
Lees de lijst, neem het mee, laad het uit, minions

Ben klaar om door te gaan
Gewoon niet af laten slaan
Ja, mijn rit die is nu, dus ik ga

Ritje op de Manitou
Pak de bok, neem het mee, kanaal twee
Dus neem het mee (2x)
Pak de bok, neem het mee, kanaal twee
Dus neem het mee

Verzorging of Techniek
Balie is erg sympathiek
Rijd sportief en word vervoer,
De Ma-nitou

Paassen en Jansen, en een echte Lindeboom
Pinda schijt en de rest rijdt
De Ma-nitou
Hi there! We are the crew of the Information desk, and we support the Kick-In Committee before as well as during the Kick-In. If you call or mail the Kick-In office, you will get in contact with one of us. In this manner, the committee can focus completely on the last organisational tasks. Moreover, we take care that the last preparations are done properly, so the activities will run smoothly. We will take over almost all tasks of the committee in the introduction week, so they can enjoy their event. During the Kick-In you can find us in the 'Information'-tent, in the middle of the campus. Here we answer all questions of participants, do-group parents, organizing partners and crew. So if you have any questions during the Kick-In, please come by!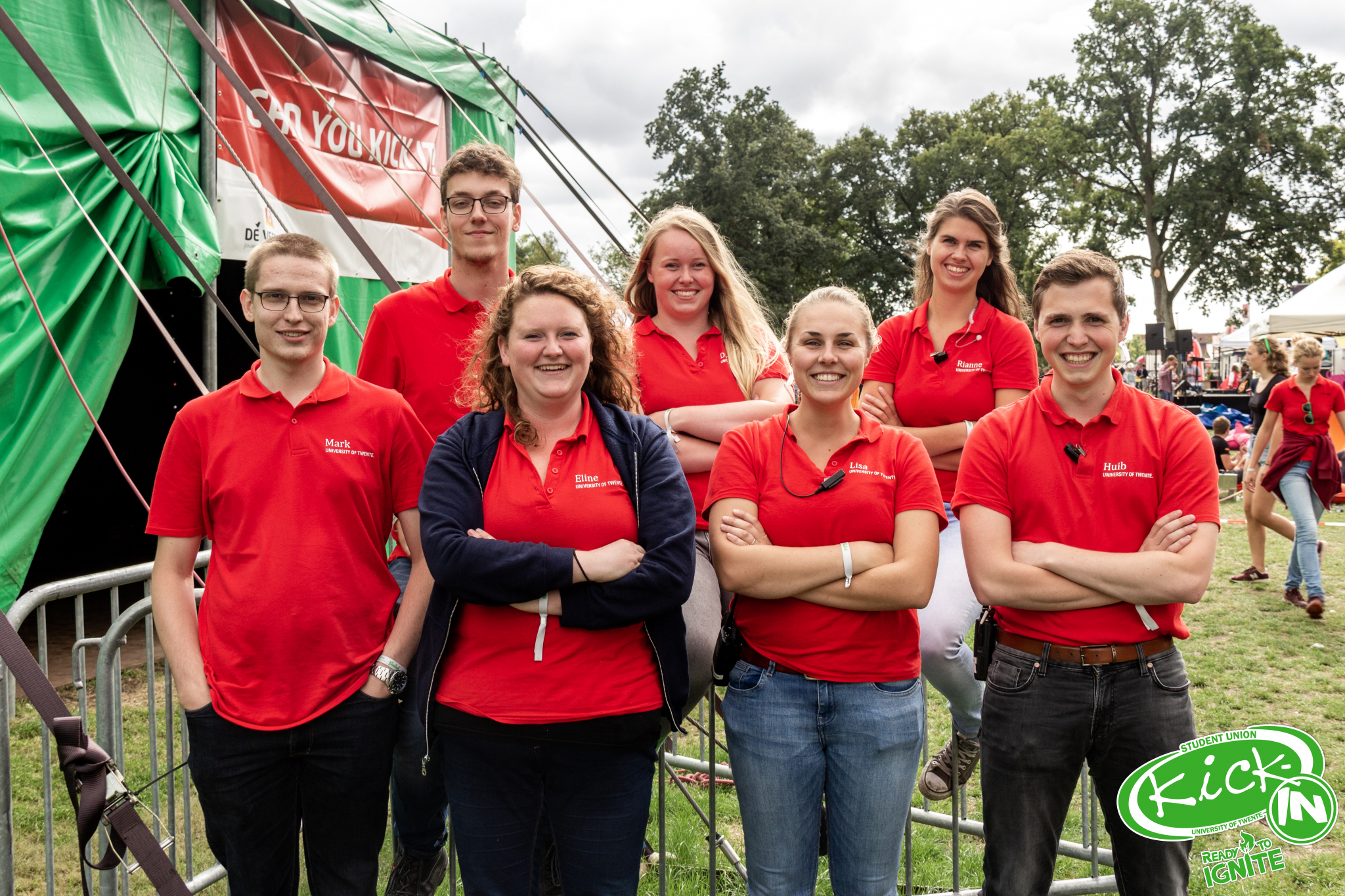 The technical crew plays a crucial role during the Kick-In. We facilitate electricity, water, light and sound for all activities. You have probably seen us driving around on the Manitou or Gators.
With the Gators we can, for example, distribute our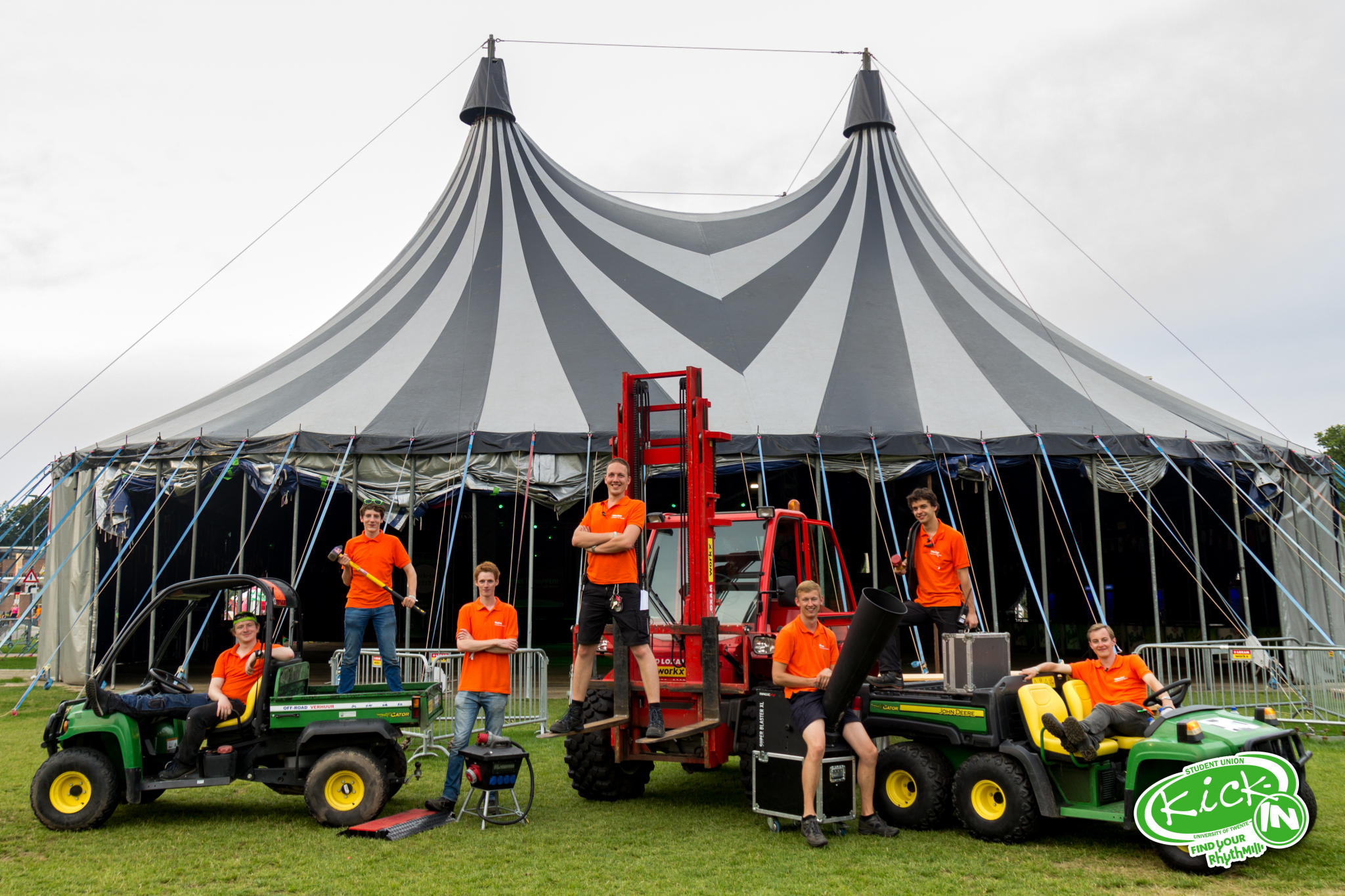 electricity cables and distributors, sinks, mobile sound set or backup generators very quickly across the field.
Part of the work is planned before activities take place, but many of our tasks take place during activities, where we solve unforeseen problems.
This requires good communication and a lot of experience. Fortunately, this is also what makes this a fun challenge.
As a technical team, often we cannot enjoy the activities ourselves. During an activity we are already preparing for the next activity so that electricity is available for the crew to start building up the activities, or we are phasing out the previous event. It's hard work, sometimes from seven in the morning until midnight, but it's really worth making the Kick-In happen.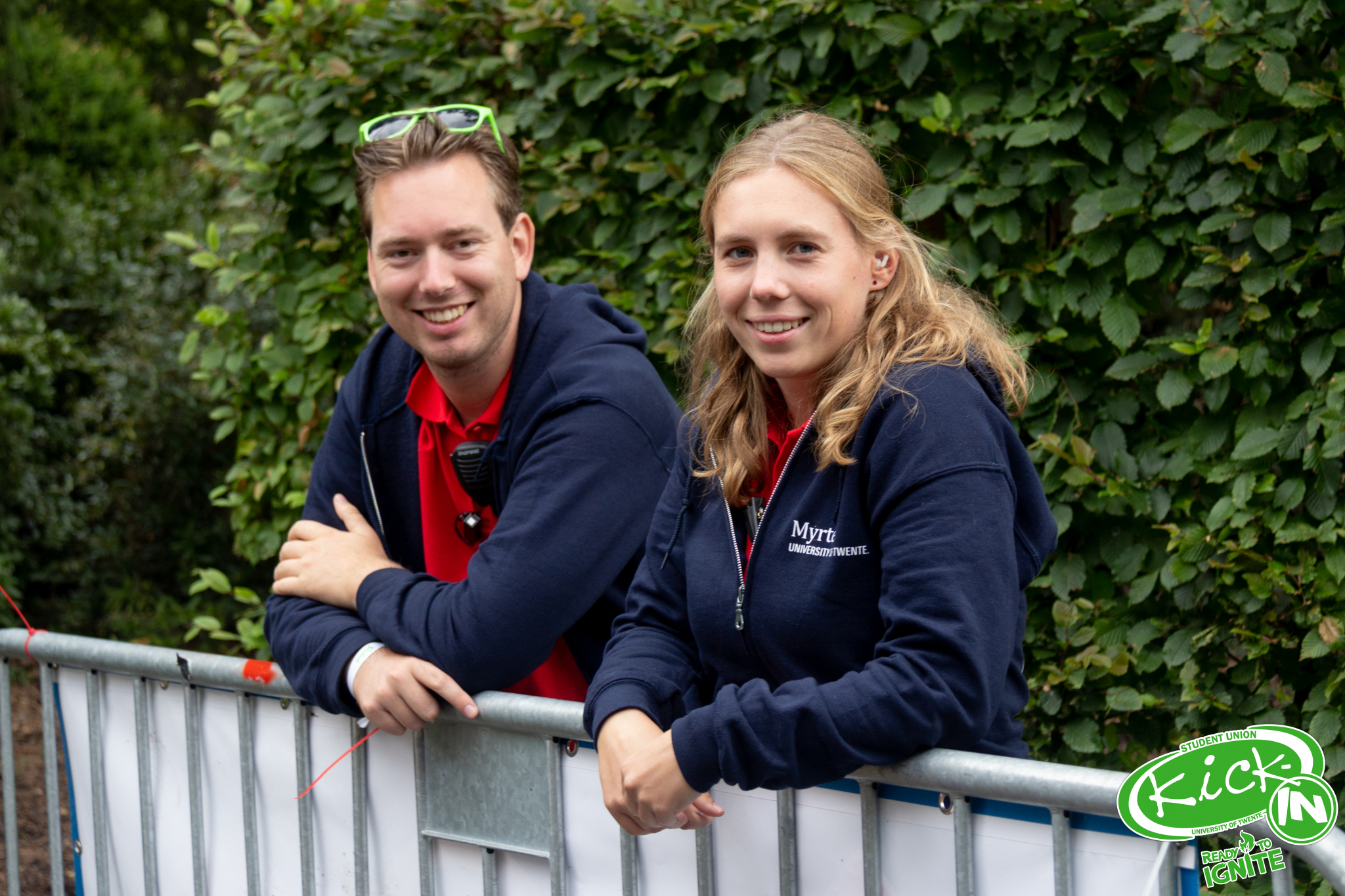 As the calamity organisation, we ensure that the safety of the event is always guaranteed, which is very important! In our golf cart we race across the terrain to check whether all activities proceed according to the planned scenario. In addition, we keep in close contact with the security of the UT, especially if we must resolve calamities.
---